Portable Ultrasound Sonosite 180 Plus
Portable Ultrasound
became a viable diagnostic tool with the introduction of the SonoSite 180 Plus, especilly for the United Nations Military (UNMIL) Hospital in Dili, East Timor. Portable Ultrasound Sonosite 180 Plus was used extensively for emergency and routine diagnostic scanning, training medical and other staff from many countries in the techniques of emergency scanning.


The Sonosite 180 Plus is portable ultrasound with features high resolution scanners equipped which provided interesting colour doppler facilities for quickly detecting blood flow in vessels, or for guiding the placement of a pulsed doppler sample volume. The Directional color power doppler is available on selected transducers.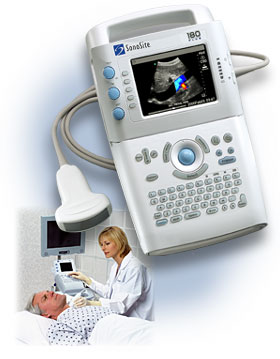 The best features in the ultrasound Sonosite 180 Plus :

High-quality ultrasound for comprehensive point-of-care imaging
Compact and lightweight for unsurpassed portability – office, clinic, bedside exams
2D directional color (DCPD), color power Doppler and continuous wave Doppler
Intuitive design allows the user to focus on the patient, not the technology
All-digital image processing for consistent performance
ECG and M-mode, plus measurement tools, analysis software and report packages
Fast boot up – ready to scan in under 10 seconds
A flexible solution for a wide range of diagnostic and interventional ultrasound applications

Portable Ultrasound Sonosite 180 Plus with his Tissue Harmonic Imaging is an advanced technology never before available in this price range. The Sonosite 180 Plus using a system processes echoes at the higher harmonic frequencies, It will resulting an images with reduced noise and clutter artifacts.


In the transducers system, The Sonosite 180 Plus offers a selection of comfortable, lightweight, broadband transducers. It's all will allow the user to perform a broad array of diagnostic studies and interventional procedures, including abdominal, vascular, breast, obstetrical, gynecological, pediatric/neonatal, cardiac, prostate, small parts, musculoskeletal and intraoperative.


If you buy new original packaging Ultrasound Sonosite 180 Plus, You will receive a one year warranty on the system and probes. The Portable Ultrasound Machine Sonosite 180 Plus is easy tu use, having exceptional image quality with advanced diagnostic capabilities, immediate answers and procedure guidance, all in an ultrasound system with superior durability.